Ah, the two year old child of your friend has a birthday coming up, and you don't want to look too cheap.
Or maybe your own child has a birthday.
And you want him to remember it.
Even though he's probably young, and won't remember much of it.
But before we look at what gifts might work, what actually goes into a memorable gift, especially for someone else?
Know their love language
Choosing a gift isn't the simplest thing. You've probably had the times when you've gone to great effort to pick something for your husband and then had him stonily say,
Thanks.
In your mind you might be thinking,
Gosh! I went to so much effort, and this is the most you can give?
It's not about giving, but how it's received
According to Gary Chapman, different people have different love languages.
Therefore, it's not just about giving something, but ensuring that the person receives it in the way that you wanted.
If you're choosing something for your friend's child today, make sure that you're clear about what they enjoy.
For example, if your friend treasures quality time, spending $200 on a toy for her child may end up making you feel pained at the hole in your pocket, but also make her feel that it didn't make much sense for you to waste that money.
An easy way to understand your friend's love language is simply to ask,
Hey, what has been the best gift you've received?

Why was it special?
In this way, you get to understand what are meaningful gifts, and the reason why this was meaningful for her.
It's the degree of thought
If you're a mum, you would know just how crazy it can be to be a mum.
Late nights without sleep, having to put down your entire career, whilst also being responsible for doing the washing, can make it an extremely difficult time.
What makes a gift truly thoughtful? It's not just how expensive it is.
For women, the price often matters less compared to men, according to John Gray, the guru behind books like 'Men Are From Venus, Women Are From Mars' (whatever your thoughts are behind that book!)
But what makes a gift thoughtful is how much understanding the recipient feels from receiving your gift. It may just be a gift of your time, offering to help the new mother clean up the home, so that she has time to rest.
Or it may be as simple as giving the gift of a nice manicure, so that the mum can remember that she still has great beauty.
It doesn't always have to be about the child.
But what about the child?
You would be forgiven for thinking that the child will probably not understand what's given to her, and may not appreciate it.
That's true. It may well be the parent who would better be able to appreciate the gift.
But for the child, your measure of success would be:
How much the child plays with it
How much the child uses it
How much the child likes it

It won't be easy to get these three in a gift, but let's try.
Raduga Grez (starts from $57)
I remember the first time I saw sets of the Raduga in a living room, filled with other children. It was quietly elegant, and not too jarring and loud.
It was simply beautiful.
And when you get these for your friend, this idea of toys playing a part in the aesthetics of the home, will make it a thoughtful gift.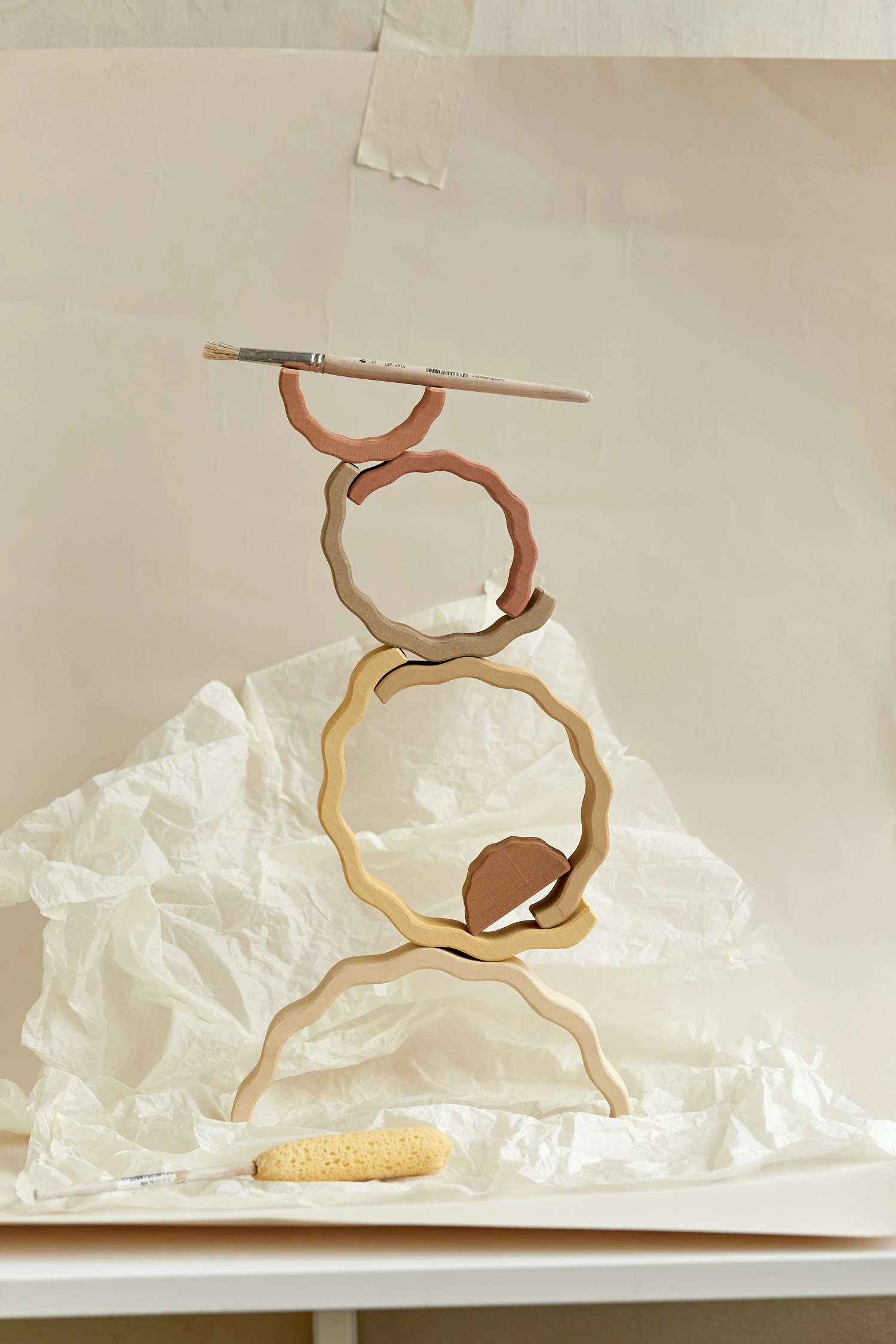 But this set of gifts will also be great for the child, allowing the child to imagine and build with what they have.
You might not want to give the child more screens to play with. This would be the perfect gift.
The IFF Kitbag (starts from $129)
In today's complex world, the child may not grow up in the same environment that you experienced when you were growing up. Instead, what they face now is a surfeit of screens, which are highly stimulating and may end up prompting greater confusion and anxieties within them.
One of the most concerning changes in the past 15 years has been the rise of mobile phone addiction since Apple released its hit iPhone in 2008.
This may not be correlated, but we can see the rise in the mental distress of youths.
Today, the average schoolchild aged between eight and eighteen years spends a third of her life sleeping, a third at school, and a third engrossed in new media, from smartphones and tablets to TVs and laptops.

She spends more time communicating through screens than she does with other people directly, face-to-face.

Since the turn of the new millennium, the rate of non-screen playtime fell 20 percent, while the rate of screen playtime increased by a similar amount.

Adam Atler, Irresistible
Giving the child the gift of emotions, that comes outside of the screen, can be a better way to help the child to grow being more emotionally intelligent.
The International Futures Forum, created the kitbag, to help children to better communicate their emotions.
Just giving this to the 2 year old can encourage him to make use of the feelings card, to better communicate his feelings through colors, rather than complex emotive words that they may not have learnt the vocabulary for.
More importantly, there are animal cards which they can relate to, and share from. One simple question would be:
What animal do you like?

Why?
Such a gift is perfect to bring around, because the child can then insert other toys he loves.
Avdar Gym
2 year olds are terribly active, but you are also pressed for time. And it's hot.
You can't be possibly bringing them down to the park every time.
What you can do is to install a little home gym, which they can play with all the time!
This gym can be filled with activities that takes the child on an adventure, such as hiding a treasure in the gym, or having to climb up the trapeze without using one's hands (with supervision!)
Choosing a gift, is less the price, and more about the thought
If you're here today, you've probably thought long and hard. You don't want the traditional, boring gift of food. Or gift cards. Or clothes.
This could be a better way.
Your friend would be surprised too.